Welcome to Our Web Site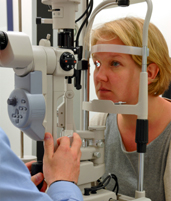 Peter C. Brasch, MD, is a board certified Ophthalmologist (eye physician and surgeon) who has been in practice in the State of Rhode Island for over 20 years.  He is an active staff physician at St. Joseph/Fatima Hospital and Rhode Island Hospital and is an Associate Clinical Professor of Surgery (Ophthalmology) at The Warren Alpert Medical School of Brown University. 
The office of Dr. Peter C. Brasch provides comprehensive eye care in a pleasant and comfortable setting that is conveniently located directly off Interstate 295 in Smithfield, Rhode Island.  Most major insurance plans are accepted.
 Dr. Brasch and his staff are committed to providing each patient with personalized attention in a caring and respectful manner.
Office hours are Monday through Friday, from 9 AM to 11:30 AM and 1:00 PM to 4:45 PM.  We look forward to welcoming you to our office.